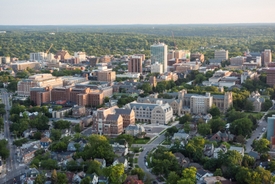 The recent incident of hate speech that occurred at U-M is part of a disturbing national trend. A recent article in Inside Higher Education referred to "an epidemic of racist incidents at campuses across the country." These upsetting events in combination with the heightened rhetoric of the election campaign have the potential to increase the stress levels experienced by members of the campus community, especially those from groups targeted by hate speech. It is useful to keep in mind that such incidents may still be on students' minds when they enter your classroom, and that such incidents take a toll on faculty and GSIs as well.  What can instructors do?
As always, CRLT consultants are available to speak one-on-one with faculty and GSIs who wish to discuss approaches to handling difficult discussions, either in advance or after they arise in class. You can visit the CRLT website to set up a consultation, call us (764-0505) to speak with a consultant during our regular office hours (8:00-5:00), or email crlt@umich.edu.
Source Cited:
Huston, Therese A., & DiPietro, Michele. (2007). In the eye of the storm: Students perceptions of helpful faculty actions following a collective tragedy. In D. R. Robertson & L. B. Nilson (Eds.). To Improve the Academy, 25(207-224). 
Photo Credit: Scott Soderberg, Michigan Photography
Log in to post comments
1791 views