Resource Title:
Blogging as a Way to Support Student Dialogue and Critical Engagement
Technology Type:
Online Writing and Discussion
Pedagogical Goal:
Promoting student reflection and critical thinking
Increasing engagement and/or interactivity
Providing supplementary content
Academic Area:
Arts and Humanities
Online Collaboration Tool:
Follow this link to a short video describing this teaching strategy.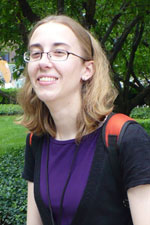 Melanie Yergeau, English, teaches in computer labs to help integrate technology into her teaching. The twenty-five students in her disability studies course participate in blogging and commenting activities, both in and out of class, supporting student dialogue and critical engagement with course content. Blog posts contain reading responses composed across a variety of media.
For example, during one class, groups of students use digital cameras to create short, impromptu YouTube videos about disability, normalcy, and the built environment on campus and then integrate them into blog posts that are compliant with web accessibility requirements. In another assignment, students synthesize their learning through "carnival" blogging: blog posts that synthesize and link to other blog posts on controversial course topics.
Using students' carnival blog entries as a starting point, Yergeau invites authors of external blogs to interact with her students on the class blog, creating a dialogue not possible in the context of the traditional classroom.