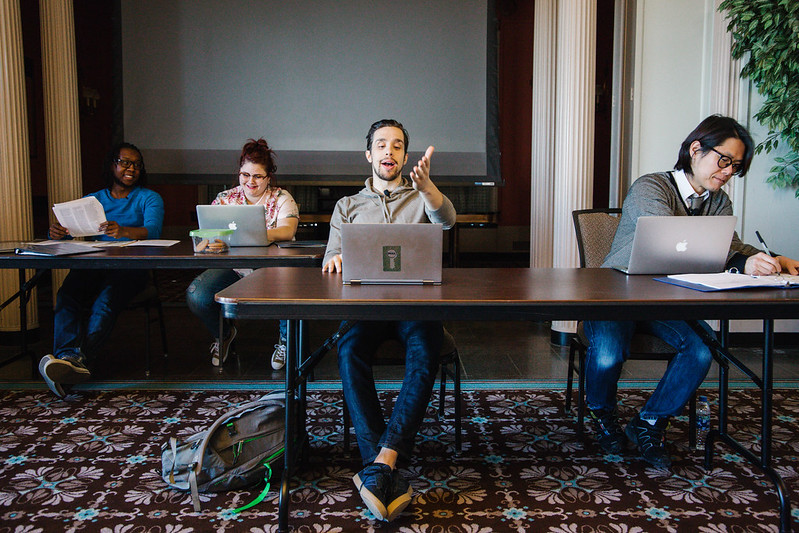 The Players are currently preparing a range of sessions that can take place virtually. We are working to determine which sessions will be available virtually and when. We will be updating this webpage with more information as it becomes available.
Updated 2/10/21:
The Players are pleased to share that we currently have four virtual sessions available for bookings with additional offerings to come.
Please see session descriptions below.
If you are interested in scheduling a virtual performance for the 2020-2021 season, we encourage you to complete the Submit an Inquiry form.
Act for Equity
Act for Equity gives participants a unique view into the issues facing instructors and students in the 2020-2021 academic year. Participants take part in a sequenced experience designed for new faculty and graduate student instructors to reflect on their ability to teach equitably and inclusively in the current moment. The learning centers on a series of short plays on video that reveal the challenges and systemic inequities people with different social identities encounter in higher education, and asks participants to reckon with their ability to make change in their disciplines and teaching contexts.
This session is offered in an online asynchronous module (around 60 minutes) OR an online synchronous session (around 90 minutes).
Session Goals:
Consider the ways that social identities and systemic inequities affect people's experience of their teaching and learning environments.
Consider the impact of COVID-19 on instructional contexts and instructor/student experiences.
Reflect on ways to increase equity and inclusion in their teaching contexts.
While the theatrical portion of this session does not depict acts of harm, it does include descriptions of sexist, heterosexist, trans*phobic, racist, islamophobic, and classist behaviors, and invites more general reflections on instances and intersections of various systemic inequities. There are also references to challenges regarding the COVID-19 pandemic.
Moving the Needle: Shifting the Conversation around Sexual Harassment
Part research presentation, part embodied case study, and part community conversation, Moving the Needle: Shifting the Conversation around Sexual Harassment challenges participants to expand their understanding of what sexual harassment is, how it impacts individuals and communities, and what makes an environment ripe for its presence. Using the NASEM consensus study report as both grounding and springboard, this session eschews a "tips and tricks" workshop model, instead pointing attendees toward the ongoing reflective practices that individuals and communities will need to commit to in order to address the culturally embedded problem of sexual harassment.
This session is offered only in a fully synchronous format. Complete session length is 120 minutes.
Session Goals:
Define and identify sexually harassing behaviors
Reflect on sexual harassment as a social problem that intersects with other social problems like heterosexism, transphobia, and racism
Describe sexual harassment's differential impact on individuals and communities
Acknowledge failure points in current institutional approaches to addressing sexual harassment
Brainstorm what would need to be different in their unit for it to actually be resistant to sexual harassment
The theatrical portion of this session contains strong language and detailed descriptions of sexual harassment.
This session is best suited to full-unit conversations including faculty, staff, and graduate students.
Shoulda, Woulda, Coulda: Moving Beyond Failure and Actively Cultivating a More Equitable Academy
Systems of higher education in the U.S. create differential advantage and disadvantage for the people who work and learn in them. When individuals move through these systems--as administrators, instructors, or learners--they make choices to participate in the perpetuation or the disruption of these inequities. While some perpetuation of inequity can be attributed to ignorance, it is often true that individuals who do understand the harmful impacts of unjust behavior, processes, and structures often fail to address them. This session centers around an embodied case study depicting one man's meditation on a personal failure and the choices he made afterward that defined his path as an educator. Through session activities, participants will reflect on what failures of this kind indicate about the educational environments in which they occur and how such reflection might prime them to reshape the spaces in which they have responsibilities.
In this session, participants will:
Reflect on failures to act for justice.
Consider how their lived relationship to social inequities within and outside of their educational environment shape their willingness and ability to act.
Explore the tension between risk and responsibility when disrupting the status quo.
Practice identifying opportunities for proactive justice work in their spheres of influence in the academy.
The theatrical portion of this session contains strong language. It includes descriptions of sexist, heterosexist, and ableist behaviors and reflection on systemic inequities related to race and socioeconomic status.
This session is appropriate for faculty, graduate students, and academic leaders.
Tenure Decisions: Equity and Excellence in the Promotion Process
Tenure Decisions: Equity and Excellence in the Promotion Process invites participants to consider their personal and collective responsibilities to ensuring an equitable promotion process for their faculty colleagues. Centered around 3 vignettes that highlight a range of frameworks, behaviors, and structures that can undermine equity in the tenure process, this session supports participants in identifying bias, practicing disrupting bias, and thinking radically about what might need to change to create a more equitable evaluation process. This sketch was developed in collaboration with the U-M ADVANCE Program and the College of LSA. This session is appropriate for individuals involved in the evaluation of their faculty colleagues.
This session is offered only in a fully synchronous format. Due to our agreement with Actors' Equity Association, this session cannot be recorded for future use. Complete session length is 110 minutes.
Vignette Descriptions:
"A Sustainable Situation"

A tenure and promotion committee begins by assessing a candidate's grants record but ends up critiquing her collegiality instead.

"Twelve"

A tenure and promotion committee wonders whether a "commanding presence" is necessary to successfully lead large courses.

"On the Service Front"

A tenure and promotion committee discuss how to position a candidate's extraordinary service in their report.
Session Goals:
Consider how bias operates in T&P evaluations
Practice a framework for disrupting bias when it occurs
Reflect on contradictory values embedded in the T&P process