Original Publication Year:
2013
Resource Title:
Steve Skerlos' Flipped Classroom
thumbnail:
Steven-Skerlos-Flipped-Classroom-.jpg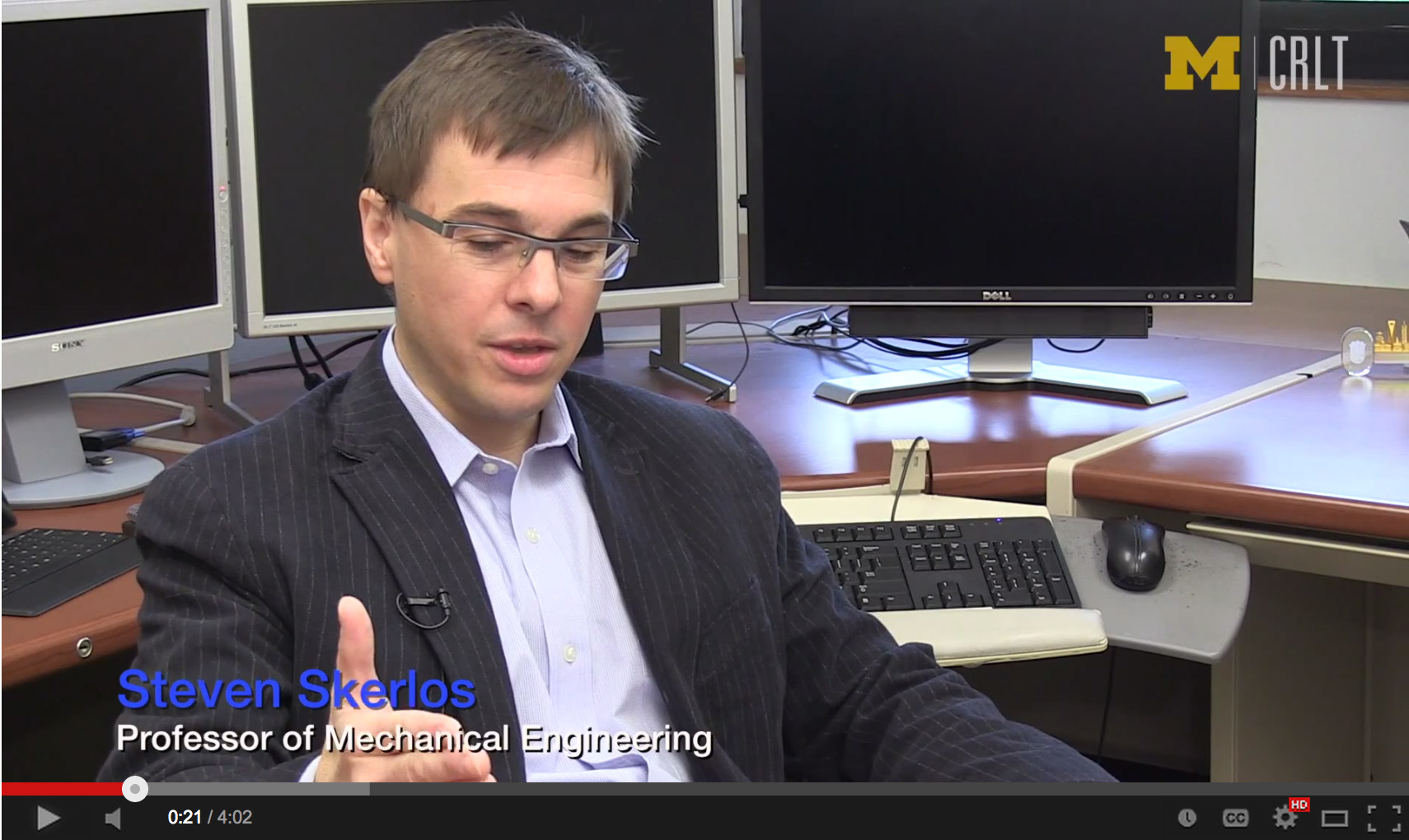 File MIME type:
image/jpeg
Pedagogical Goal:
Content delivery (alternatives to lecture)
Answering student questions
Increasing engagement and/or interactivity
Academic Area:
Engineering
Discipline:
Mechanical Engineering
Online Collaboration Tool:
Steve Skerlos, Mechanical Engineering, discovered that his graduate students, even those who were quite successful in his classes, were not retaining what they had learned in class in a way that they could apply that knowledge to research questions.  Additionally, Prof. Skerlos had a desire to shift his lecture-based courses to have more in common with senior design courses in engineering, i.e. the instructor and the students all working together to solve problems. The following description of Prof. Skerlos' flipped class is for his ME 499 course, Sustainable Engineering and Design. Prof. Skerlos, though, has flipped many classes, including a 150-person undergraduate course.
Students' First Exposure to Content
In Prof. Skerlos' classes, students must watch a video or read a case study prior to class. In his course syllabus, Prof. Skerlos estimates that the video or reading component of the pre-class work should take about one hour. Each student is expected to reflect upon the discussion questions posed by the instructor and, prior to class, submit one question that s/he would like the instructor to answer during class.
Student Accountability for Pre-Work
The syllabus for Prof. Skerlos' class is very explicit about the level of responsibility students have for completing the pre-class work. "Submitting a question without watching the whole pre-class video will be considered a violation of the honor code unless you state that you haven't watched the video. If you haven't watched the video, you can still submit a question just put a simple note there that the question is being submitted without having watched the video." Additionally, for class periods in which the pre-class work includes a video, the students must complete a quiz inside CTools Test Center after class.
Face-to-Face Class Time
The first portion of the face-to-face class time is spent making sure students' questions get answered. Prof. Skerlos provides short mini-lectures based on the themes he identified in the students' submitted questions. Additional class time is having the students work together on problem-solving or course projects.
Assessment of Student Learning
Students demonstrate their knowledge through class participation in case study discussions, completion of problem sets and success on traditional midterm and final exams.  Students also complete a term project demonstrating their understanding of best practices for materials selection.
Perceived Outcomes of the Flipped Classroom
As noted above, Prof. Skerlos has flipped multiple classes because he has found the flipped class to be effective for improving student learning. One of the other benefits to the flipping a class, according to Prof. Skerlos, is that the re-designed class has rejuvenated his enthusiasm for teaching.