Resource Description:
ZACHARY LONDON, Associate Professor of Neurology, Medical School. His innovation involves a web-based simulator to assist in training neurologists and physiatrists.
Original Publication Year:
2015
Resource Title:
TIP Winner: Generating Multidisciplinary Synergies Across Community-Engaged Courses
Academic Area:
Professional Schools
Discipline:
Neurology Medical School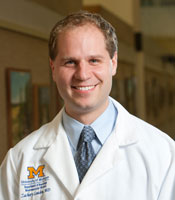 A web-based simulator, EMG Whiz challenges medical residents and fellows to plan efficient sequences of electromyography tests in order to diagnose nerve and muscle disorders. Training recommendations call for neurologists and physiatrists to perform and interpret 200 complete electrodiagnostic evaluations during their residencies or fellowships. Although hands-on, clinical experience enables trainees to become adept at making common diagnoses, trainees are unlikely to get enough practice with less commonly seen diseases to be able to identify them with confidence, let alone to do so efficiently.
EMG Whiz "uniquely teaches challenging neurological concepts in an approachable, original format."
"EMG Whiz highlights the reasoning skills inherent to electromyography. It teaches clinical medicine not by rote memorization or simple pattern recognition, but by highlighting decision-making and a dynamic, logical
approach."
"Learning how to interpret electromyography results can be daunting for trainees. The approach differs
based upon the patient's symptoms and must be adapted as the test[ing] progresses and more results become available."
"The program provides a self-paced, intuitive means to navigate through cases."
"EMG Whiz's innovation lies in its ability to teach the foundational logic of electromyography in a way that
textbooks and journal articles cannot. The case-based approach duplicates the situations that physicians will
encounter."
Above photo:
ZACHARY LONDON  (Associate Professor of Neurology Medical School)