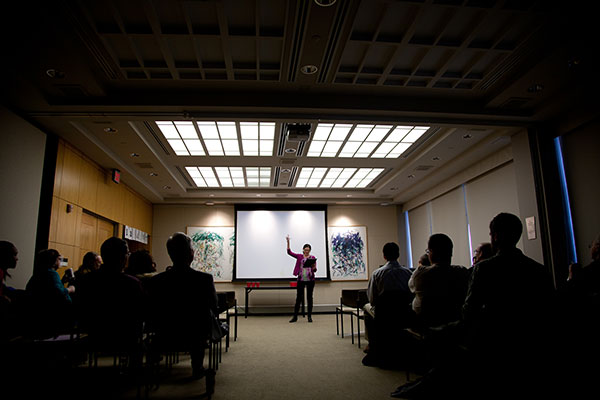 Players sessions are based on academic research, conversations with content experts and campus partners, interviews with members of the U-M community, and our lived experiences navigating higher education. By putting both familiar and unfamiliar dynamics on display through theatre, the Players illuminate different aspects of academic life and prompt serious thought on experiences of marginalization in higher education.
By viewing a common performance, members of the audience can come to a shared understanding about a social problem--allowing for a facilitated discussion across people that may not have been possible otherwise.
In the vast majority of our sessions, we use theatrical case studies to illustrate specific examples of how social identities (like race, gender, sexual orientation) and systemic inequities (like racism, sexism, heterosexism) interact to create different, specific challenges for individuals in academic environments.

By centering the experiences of individuals who are institutionally marginalized in higher education, we eliminate two common, opposing dynamics that typically occur in sessions without theatre: 1) the desire to speak abstractly about what is going on in regard to racism, sexism, etc. and 2) the necessity of specific facilitators and/or participants sharing a recognizable story that will illustrate a problem but jeopardize anonymity and further burden the sharer. By showing these experiences onstage, we honor the challenges many members of our community face on a daily basis. We also make more visible the labor required of individuals who are forced to navigate these challenges.

In many of our sketches, we use theatre to present multiple perspectives on complex issues. This allows differently situated audience members a variety of pathways into the performance/topic. It also helps us to quickly map the contours of the social problem under consideration by allowing us to demonstrate the various actors/actions that allow for the perpetuation of inequity.
Across our sessions, we use theatre to tell stories in modalities that more affectively, creatively, and memorably present research, academic ideas, and/or individual experiences. In that way, we hope to increase the stickiness of an idea for participants and promote the likeliness of social change.