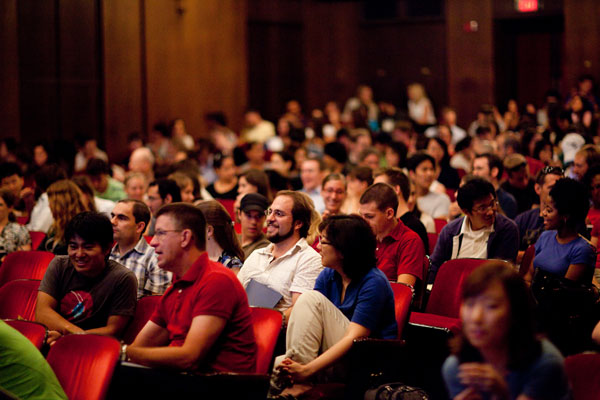 Please click on a sketch title below to jump to the audience feedback for that sketch.
"The CRLT Players performance really conveyed the message that our student population is extremely diversified. This made me think a lot more about how to be an inclusive professor, both in class and in research group."
"I am inspired to think more about teaching and how to interact with students by the performance."
"The performance illustrated in a funny, creative, and engaging way the important issues that arise during teaching."
"The performance discussion recognized big topic issues in an engaging and honest manner while offering transparent, personal experiences."
Click here to learn more about 7 into 15.
"This felt very real and provided a great view on what to do or not to do. Helps us think critically about how to deliver bad news."
"Amazing. Such a great way to understand the interplay between patient and illness."
"I expected this session to be silly; I walked away seeing how incredibly well done this presentation is and how serious breaking bad news really is."
"Very professional and clearly well-researched. It felt realistic. Great snapshot of the healthcare system. This was a good learning experience." 
"I wasn't sure what to expect from the theater format but it definitely facilitated a kind of conversation about classroom dynamics that was valuable and couldn't have taken place otherwise."
"This was extremely useful and an exercise that I value since I face similar situations in my class."
"The play was very well presented and can be used as a helpful tool for junior faculty to learn how to teach."
Click here to learn more about Conflict in the Classroom. 
"[The discussion following the performance] was one of the most engaged my department has had about teaching in the two decades I've been here. I think it formed terrific ground work for more to come. Thank you."
"It's compelling to see these behaviors acted out, rather than just discussing hypotheticals. It's also useful to hear and practice using the language of inclusive teaching. The session leader was really a role model in that way."
"It was valuable seeing how students can express challenges differently, thinking about how to work with anger, and hearing instructors' perspectives on different ways of taking action."
"Beautiful work! So difficult and so important. Great job."
"Often people think that 'sadness' is the only thing they need to look for in terms of knowing whether or not someone might be experiencing depression-- these sketches illustrate that depressive illnesses can look very different in different people (including lack of motivation, withdrawal, and irritability/anger), and also emphasizes the importance of connecting with ever person as an individual, rather than simply as a diagnosis."
"I think you all did an incredible job in addressing some of these complex pieces involved in distressed students. Great way of incorporating these challenges and initiating conversations!"
"Providing an opportunity to think about these issues with guidance is great."
"I wish this training were mandatory! I came to fulfill course credit, but this was extremely helpful and I'll try to attend this same workshop again. Thank you!"
"It was an excellent session, thanks to your leadership! Our colleagues seemed quite engaged (by comparison with previous mentoring discussions) and it was actually quite amazing that one or the other identified with Glenn or Liz [the faculty presented in the sketch]. Very interesting!"
"The performance of Great Expectations really helped illustrate some of the absolutely crucial and cross-cutting issues we face as faculty and students. It was extremely helpful to see tham played out in such clear and vivid ways so that we could identify ourselves and the urban legends more objectively and it will surely spur multiple ongoing conversations in our department in the coming months. Bravo! And thanks!"
"I think you did a wonderful performance bringing in many aspects of faculty politics and mentoring strategies. The discussion allowed for non-judgemental advice and discussing."
"I liked the nuance of the performances-- really facilitated a useful conversation about challenges that both students and advisors face."
"I have very specific things that I am going to do next. I feel really motivated for my upcoming meetings, to get out of my rut."
Click 
here
 to learn more about 
Great Expectations.