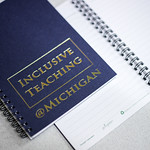 CRLT (Center for Research on Learning & Teaching at U-M) defines equity-focused teaching in this way:
Equity-focused Teaching is a corrective tool that allows instructors to acknowledge and disrupt historical and contemporary patterns of educational disenfranchisement that often negatively impact marginalized and minoritized students. It recognizes that systemic inequities shape all students' individual and group-based experiences of social identity and produce vastly different relationships of power in and outside of the classroom, which impact students' learning and success. The corrective work of equity-focused teaching involves deliberately cultivating a learning environment where students:
Have equal access to learning
Feel valued and supported in their learning
Experience parity in achieving positive course outcomes
Share responsibility for the equitable engagement and treatment of all in the learning community.
Equity-focused teaching is an ongoing commitment and practice that should develop across the life of a teaching career. This commitment is always in the service of achieving just experiences and outcomes for both students and teachers alike.
Principles
---
---
---
---
---
---
Additional Resources