Transforming Large Foundational Courses

What is FCI?
CRLT's Foundational Course Initiative (FCI) partners with department teams to redesign foundational courses, which are typically large introductory or early career courses, that offer gateways into a field of study. Our mission is to transform these courses into engaging, equitable, and inclusive learning experiences for all students.
Why is it important?
Foundational courses introduce students to a discipline or a course of study and are pivotal in their future career paths. Due to their size and the wide range of student backgrounds, they present both unique instructional challenges and outsized opportunities for impact across the University. Furthermore, structural inequities and historical exclusion show up in these courses as in all higher education. Equity-focused teaching and other high-impact practices address disparate outcomes and ensure engaging and deep learning experiences for all students. Using evidence-based teaching practices we seek to transform these courses into experiences that allow every student to further explore their interests and thrive in their chosen disciplines and future careers.
By focusing on large enrollment courses, we have the opportunity to positively affect the learning experience and create educational equity for tens of thousands of students. In the 2022-2023 academic year alone, over 40.5% of all undergraduates at the University of Michigan were enrolled in FCI courses.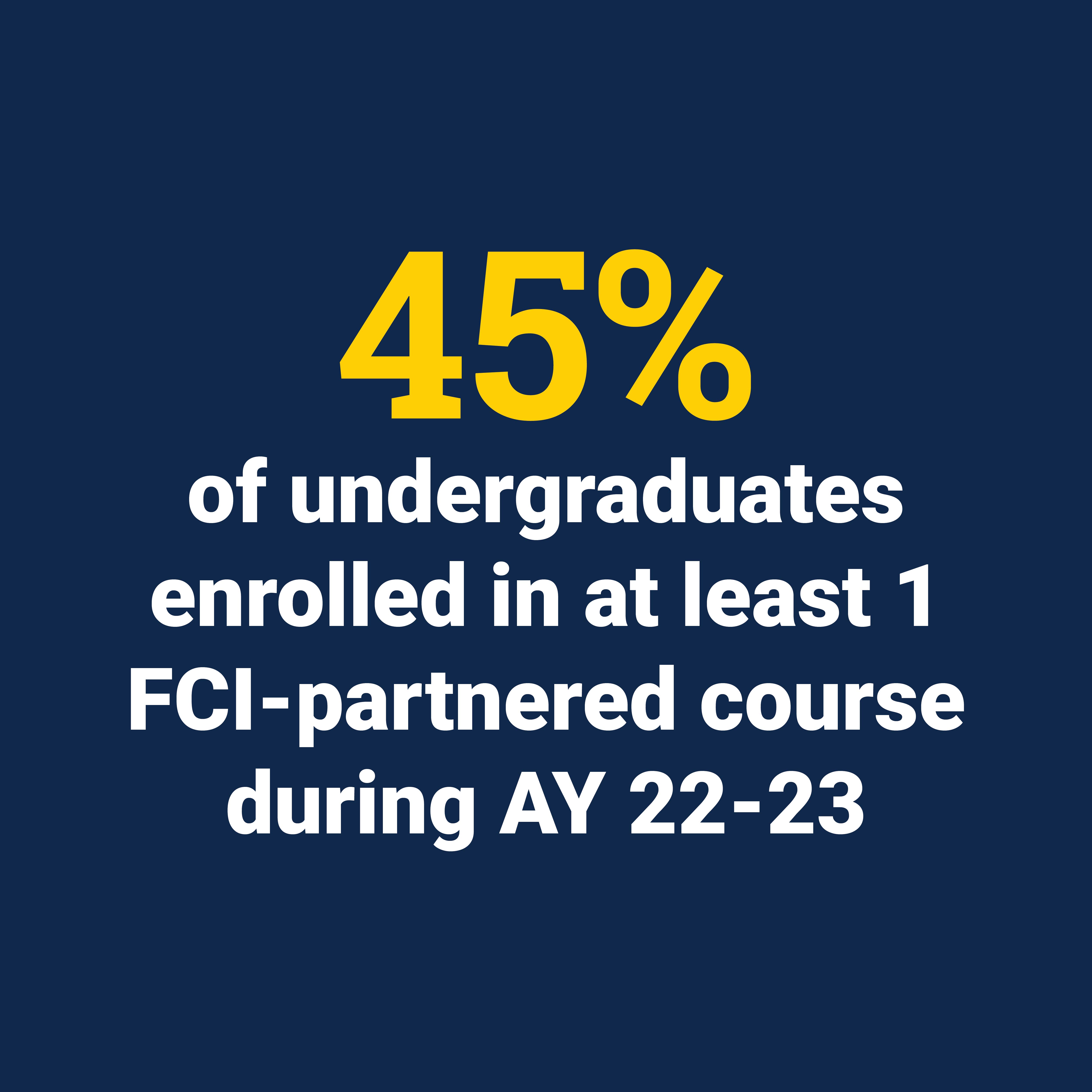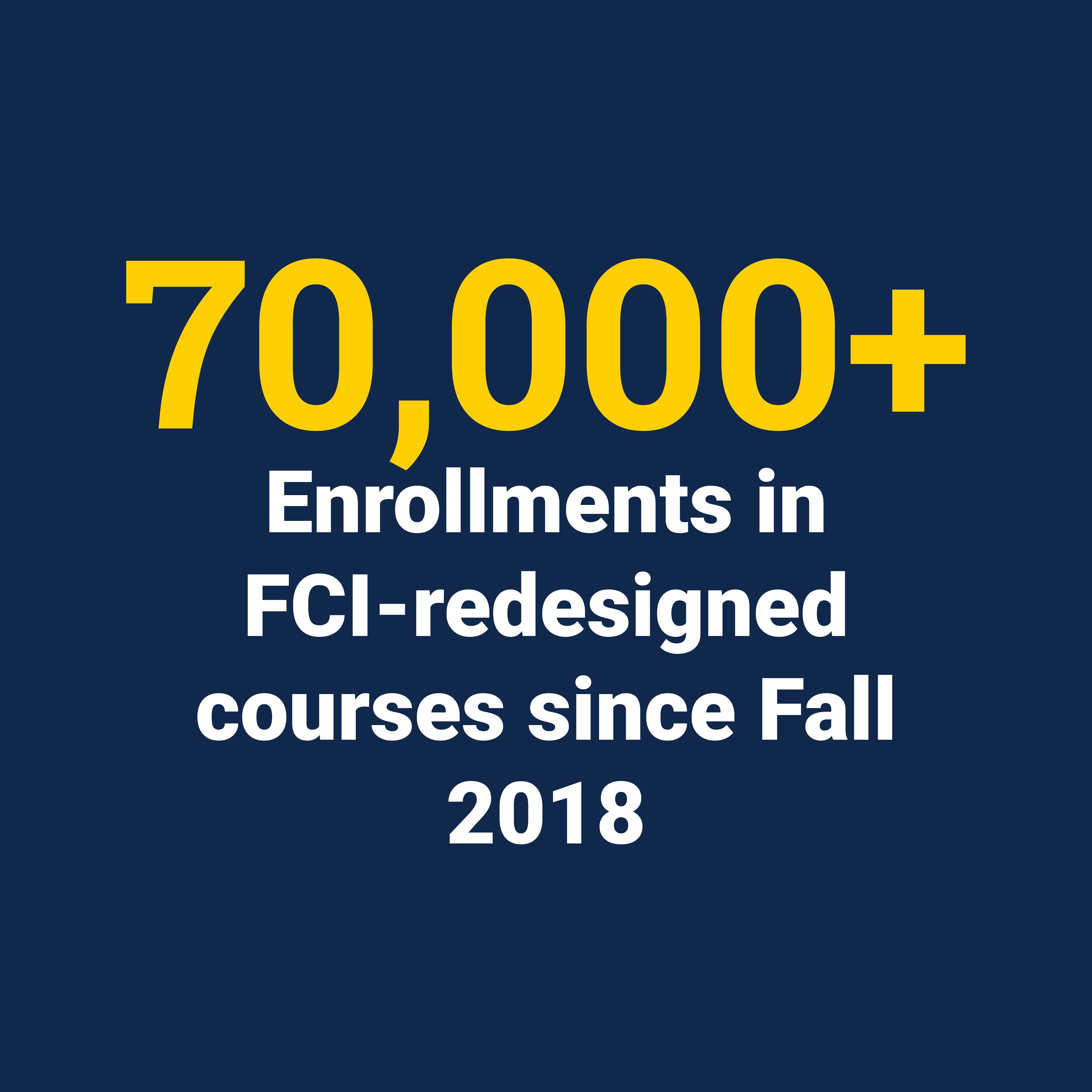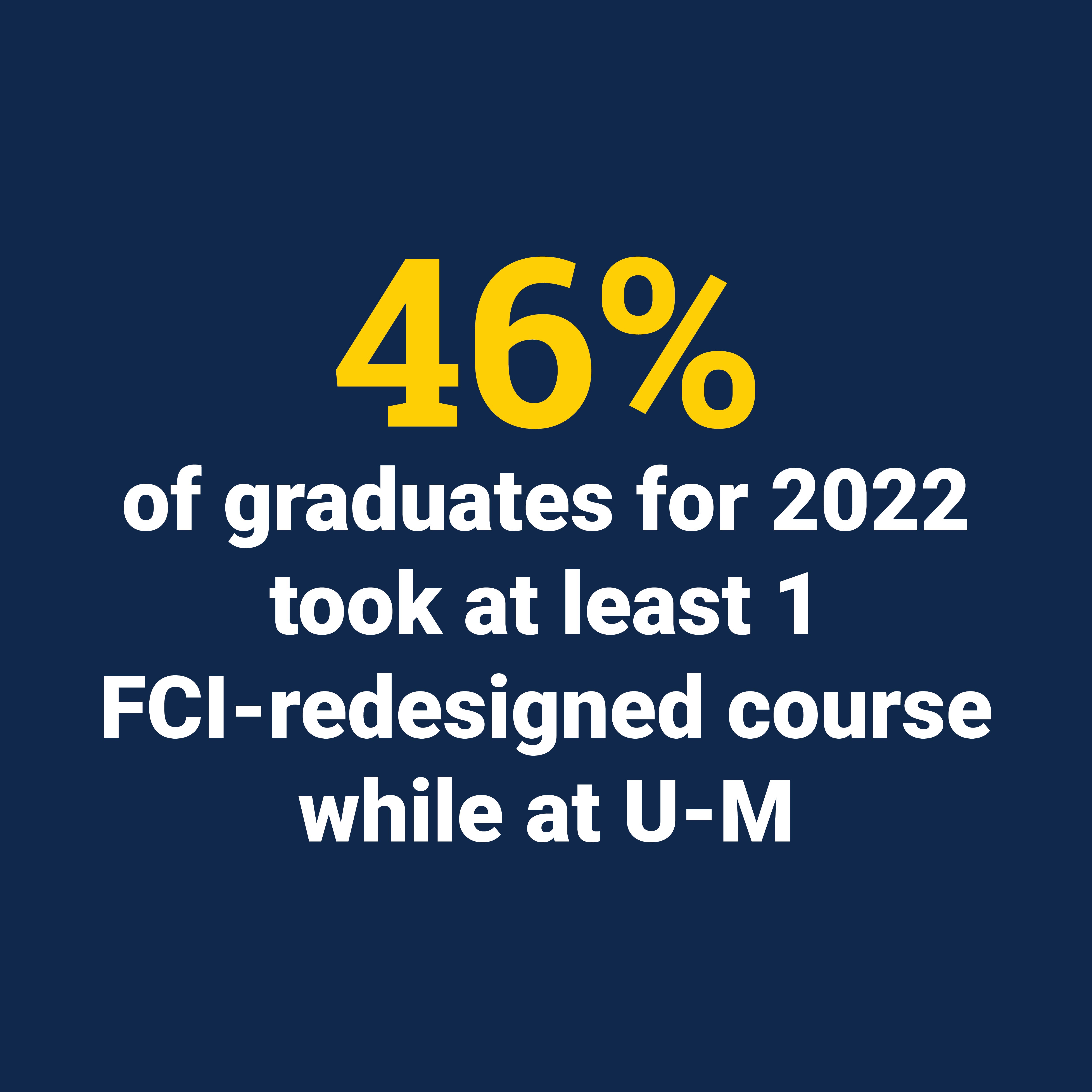 How do we partner with these large courses?
Designing learning and teaching experiences that are purposeful, equitable, and effective requires a holistic approach. Our team-based transformational process unites FCI consultants with course teams composed of instructors, staff, graduate, and undergraduate students. These collaborative course design (CCD) teams engage in a three-year process that is highly iterative, goal-driven, and data-informed. 
Why Participate? 
FCI enables department teams to turn their visions into reality through a three-year partnership that provides:
Educational design expertise and dedicated consultants for each course
Resources necessary for large-scale change, including $10,000 per year for course design and implementation needs
Implementation of equity-focused teaching principles and practices
Comprehensive data gathering and analysis to inform course design decisions
Instructional team development and training for student assistants
Robust logistical support and coordination to enable transformation
REACH OUT TO US WITH QUESTIONS
How is the Initiative Funded? 
With a renewed investment of $7.2 million from the President's Academic Excellence Fund, CRLT's Foundational Course Initiative (FCI) aims to create a 21st-century model for teaching that is grounded in collaborative course design and inclusive practices. FCI consultants provide the time, resources, and infrastructure to make course transformation adaptive, impactful, and sustainable. By establishing a new standard for innovative, collaborative course design and implementation, U-M is striving to lead the world in teaching foundational subjects at scale.
Who is Participating?
Cohort 6 (2023-2026)
Anthropology 101: Introduction to Anthropology
English 125: College Writing
Mechanical Engineering 240: Introduction to Dynamics and Vibrations
Creation of New Courses:
College of Engineering: Diversity, Equity, Inclusion, and Justice Graduate Course
Economics 210: Math for Economics
Curriculum Alignment Projects 
Mathematics Introductory Curriculum Partnership 
Nursing Social Determinants of Health Alignment Partnership 
Cohort 5 (2022-2025)
Communication Studies 102: Media Processes and Effect
Earth 222: Introduction to Oceanic Studies
Electrical Engineering and Computer Science 280: Programming and Intro to Data Structures
Nursing 238: Culture of Health 
Women's and Gender Studies 240: Introduction to Women's and Gender Studies
Cohort 4 (2021-2024)
Electrical Engineering and Computer Science 203 - Discrete Mathematics
Nursing 240 - Pharmacology Foundations of Nursing Practice
Philosophy 183 - Critical Reasoning
Political Science 140 - Introduction to Comparative Politics
Statistics 250 - Introduction to Statistics and Data Analysis
Cohort 3 (2020-2023)
Biology 173 - Introductory Biology Lab
Engineering 101 - Introduction to Computers and Programming
Linguistics 111 - Introduction to Language
Mathematics 115 - Calculus I
Program in the Environment 201 - Ecological Issues
Cohort 2 (2019-2022)
Business Administration 100 - Introduction to Ross: Foundations for Learning Business
Biology 172 - Molecular, Cellular, and Developmental Biology
Electrical Engineering and Computer Science 183 - Intro to Programming
Mathematics 105 - Data, Functions, and Graphs
Movement Science 110 - Biological and Behavioral Bases of Human Movement
Cohort 1 (2018-2021)
Business Administration 200 - Businesses and Leaders: The Positive Difference
Economics 101 - Principles of Economics I
Engineering 110 - Design Your Engineering Experience
Physics 140 - General Physics I
Public Health 200 - Health And Society: Introduction To Public Health
Film, Television, and Media 150 - Introduction to Film, Television, and Media