Resource Title:
Active Learning - Sabine Gabaron (French)
Faculty Name Sabine Gabaron
Course Topics French 232
Student Created Content
Group Assignments
Digital Media Creation
Introduction
By the fourth semester of the language sequence at U-M, students are expected to speak, read, and write in their target language exclusively. By shifting the responsibility of providing material for the course (readings, examples, videos, and the like) from the instructor to the students, Sabine Gabaron has created an environment that enables students to practice the language comfortably and enthusiastically.
Active Learning in the Course
Each semester-long course is themed around a topic like comics, music, or politics, and students respond to a specific prompt by bringing in news articles, songs, or other examples in French to the each class meeting. Each group sees unique material, making it so not everyone "learns" the same thing or is exposed to the same material. Students work collaboratively on one computer, phone, or tablet to present their materials and then report back their findings to the rest of the group, so that they first practice their reading and speaking in small groups and then in the larger, full-course environment.
Challenges and Solutions
Initially, Gabaron felt some anxiety around ceding so much control over the content of the course to the students. In order to make sure that the course was still satisfying learning goals of the fourth-semester curriculum like grammar and vocabulary, while respecting the individual experience of each student based on the content they brought to class, she created specific content quizzes that required precision but could be tailored to each student's reading and context.  
Changes in Instruction
After teaching the standard French 232 course for several years, it was initially unnerving to teach in such a new format. However, by shifting her understanding of her role from content-deliverer to enabler of language skills, Gabaron was able to recontextualize the work of teaching. She still, of course, provides structure and support as students learn to use the language, correcting grammar and writing, but views her role as creating a safe space for students to explore and practice their language while following their own interests as just as important.
Benefits for Students
Students, when free to follow their own interests and bring in material for the course, become much more confident in their own language skills, from reading to speaking. Even as fourth semester speakers, Gabaron reports that the students are seeking out copies of texts in French and are much more willing to engage in speaking with one another, and with her, in the classroom setting when they've been empowered to bring the material in to fuel discussion.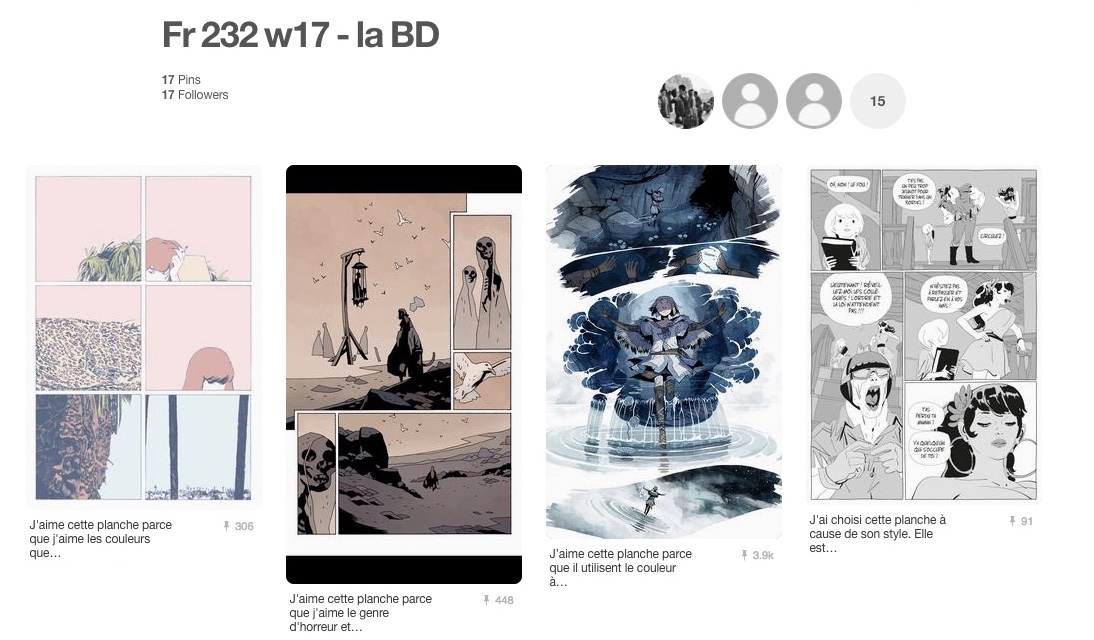 Students use Pinterest to organize materials they find during research, and categorize them based on visual style, all while practicing their descriptive abilities in the captions.