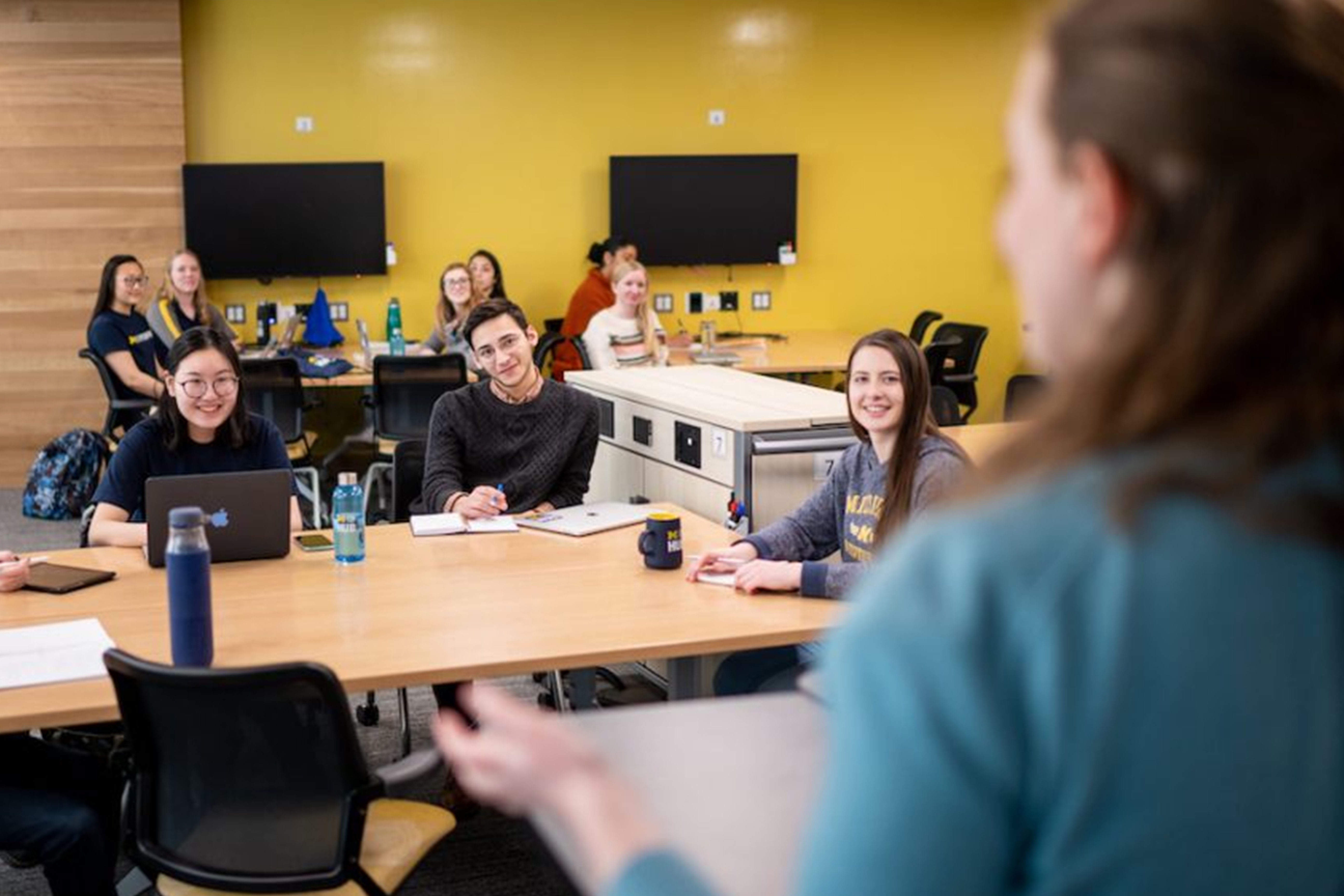 Guest Author: Paul Barron, LSA Opportunity Hub
We're heading towards that point in the semester where students' engagement may wane as they juggle competing deadlines and responsibilities. While it can help to revisit the syllabus and remind students of upcoming deadlines, another way to promote engagement is to address a topic they're stressing about: looking for jobs and internships. This blog post offers a range of ways that instructors can help students identify links between their courses and their future careers. 
At the LSA Opportunity Hub Luciana Nemtanu, Ph.D, indicated that a majority of the students she interviewed expressed a desire for faculty to take an interest in their career exploration journeys. For example, one student said the following: "I wish professors were more understanding that we're not just taking classes; we're also trying to get jobs." This sentiment came up frequently, and it echoes national and U-M surveys which confirm the two parallel reasons for pursuing a college degree are intellectual as well as career development.¹
The middle ground could be to let your students know you're aware they're thinking about career exploration and to share links where they can receive support. This may hold particular significance for Black, Hispanic, first-generation, and nontraditional students, who are more likely than other students to rate career services as helpful, but are less likely to have received previous guidance about the importance of engaging in career-building activities before graduation.
Here are a few suggestions for instructors to consider in supporting students' career development in their courses:
Let students know you're aware, and care about, their desire for career engagement. For example,

Encourage students in the syllabus, in class, and on assignments to spot connections between the course material and the type of work they're interested in pursuing.
Communicate that you're aware they're simultaneously working towards their careers or continuing education, and share the links to the career offices that can help them deepen their exploration. Learning how to create a career plan, networking with employers, and pursuing internships related to career goals have a big impact on students' career mobility.

Encourage students to come to office hours to discuss their career aspirations.
Give students a five-minute reflection prompt that asks them how they could apply what they learned at the end of the semester, module, or assignment to the work they are interested in pursuing.
Bring colleagues or former students to class, in-person or virtually, who can speak to how they've applied the knowledge, skills, and frameworks that make up your discipline to their lives and work.
Share this Canvas link, where students can register and gain access to 10 comprehensive career guides, whose titles include everything from Exploring Graduate School, and Discovering Career Options, to Growing Your Network.
---
1 Stolzenberg, E. B., Aragon, M. C., Romo, E., Couch, V., et al., The American Freshman: National Norms Fall 2019 (Los Angeles: Higher Education Research Institute, UCLA, 2020).
2 University of Michigan Division of Student Life Research, Fall 2022 First-year Foundations Study, 2022.
3 Strada-Gallup, 2017 College Student Survey: A Nationally Representative Survey of Currently Enrolled Students, 2017, Link.
4 Najmabadi, S, "How colleges can open powerful educational experiences to everyone," Chronicle of Higher Education, March 12, 2017, Link.
Log in to post comments
290 views