Resource Description:
RICHARD NORTON, Associate Professor, Taubman College of Architecture and Urban Planning
PAUL FONTAINE, Program Manager, Taubman College of Architecture and Urban Planning
ELISABETH GERBER, Professor, Ford School of Public Policy
GAIL HOHNER, Managing Director, College of Engineering
PATRICIA KOMAN, Senior Program Manager, School of Public Health
JIM KOSTEVA, Director of Community Relations, Office of Government Relations
This team's innovation addressed the challenge teaching students to work in a collaborativ
Original Publication Year:
2015
Resource Title:
TIP Winner: Generating Multidisciplinary Synergies Across Community-Engaged Courses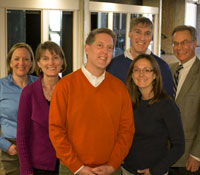 In U-M's decentralized academic setting, a huge challenge for community engaged learning is that students and faculty from multiple disciplines sometimes work with the same community without ever being aware of each other's projects. Changing this dynamic by coordinating across programs is not easy, but the payoffs are profound. When practicums from different schools deliberately focus on a single site, students develop a capacity for collaborating thoughtfully with peers from other disciplines, and communities benefit from better-rounded analyses and proposals.

Student Comments
"Having to consider the affected community holisticallylent us an insight into the history and story of theproblems we sought to solve."
"We had prepared a presentation delineating the multiple types of wetlands and their respective floral
content. Ready to field questions on the technical content and research path forward, we instead were
bombarded with questions regarding the accessibility of any system to the public [and] the potential regulatory issues associated with a water system in close proximity to an airport. We were completely
unprepared to answer any of these questions. Throughout the semester, however, we learned to tailor
our presentations to the relevant audiences—tweaking slides, depth of explanations, and even presenters
based on who had established relationships with different invested parties."
"We connected with the community, explaining the impact and financial ramifications of our research, and
we also won an international award on a technical white paper detailing the entire process and results of
our work."
Above photo:
RICHARD NORTON (Taubman College of Architecture and Urban Planning)
PAUL FONTAINE (Taubman College of Architecture and Urban Planning)
ELISABETH GERBER (Ford School of Public Policy)
GAIL HOHNER, (College of Engineering)
PATRICIA KOMAN (School of Public Health)
JIM KOSTEVA (Office of Government Relations)