Resource Title:
Occasional Paper
As MSC matured, the potential for cases to foster engagement and problem-solving outside of university spaces became more obvious--and more important, with President Mark Schlissel's call in late 2017 for increased faculty public engagement (http://record.umich.edu/articles/university-focus-promoting-faculty-public-engagement). However, to MSC's knowledge, case studies had not previously been used in this way, so MSC began to experiment. The mini-case below follows MSC Faculty Director Rebecca Hardin as she explores the question "How can case-based public engagement events be designed and linked to convene communities for solving sustainability problems?"
The small team of learning design and media specialists from Academic Innovation at the University of Michigan glanced at each other uneasily as it became clear there were not enough chairs to seat their guests around the project planning table in their office. Outside, freezing rain fell during a typical late winter afternoon in Ann Arbor. Inside, among the whiteboards, dry erase markers, and empty donut boxes, the room felt almost too cozy as late arrivals squeezed around the table on chairs borrowed from next-door offices. Associate Professor Rebecca Hardin, a cultural anthropologist and the faculty director of MSC, had been hoping for exactly this kind of disruption to the status quo of one or two professors framing teaching materials for students. 
"So … um, we've never had a group this big or varied before for a kickoff meeting on developing teaching tools," said Steve Welsh, the Academic Innovation team's lead. Uneasy laughter filled the room, and Mitch Adelman, an upper-level manager from Michigan's Department of Environmental Quality (DEQ), ran his fingers through his hair and shook the raindrops out of his mane of salt and pepper curls. He and his colleagues were curious to see whether these Ann Arbor–based academics could possibly grasp the political and ecological complexity of water-related challenges they faced daily across the state. 
"Maybe it makes sense to go around the table and tell one another who we are?" Steve continued. 
"Sure. I drove down from Lansing," said Mitch, "where I was recently promoted by the DEQ. My colleague Dan here came to town from Jackson, where he is filling the position I left to move to Lansing. We are looking for better public education tools to get consistent, accurate information out to more people."
Steve and his team scribbled notes as Leana Hosea, a dark-haired journalist from the BBC, stopped fishing in her bag of camera equipment and spoke up. "I was here at U-M as a Knight-Wallace Fellow last year, but I have stayed on to work with MSC to rethink the roles of media in teaching, and to teach students how to produce better media about their scientific work."
As the turns around the table unfolded, the pages of notes filled: Gerry Tiernan, a geographer with the DEQ; Michelle Bruneau, Department of Health and Human Services, Detroit; Rita Loch-Caruso, faculty, School of Public Health at the University of Michigan; Matt Naud, Sustainability Director and Environmental Coordinator, City of Ann Arbor; Kristen Schweighoefer, Washtenaw County Health Department; and Meghan Wagner, Project Manager at MSC. Professor Hardin had invited such a large group to include as many perspectives as possible and to tap into some of the state of Michigan's professional communities that felt that the university sometimes neglected their perspectives. All had gathered to co-produce a Teach Out (http://ai.umich.edu/teach-out/) centered on water contamination and anchored by the case study "Dioxane Plume Pollution" (Prushinskaya et al., 2017) about the chemical contamination of Ann Arbor's groundwater.
"So, maybe we should tell you a bit about what we offer with our series of Teach Out products," said Steve. "These are short courses that range from three to six hours in length, convening an online community to learn together about a problem. They are inspired by the Teach In about Vietnam that happened here at U-M in 1965 and sparked movements around the country by students and faculty seeking to correct misconceptions about that war, and its costs to both Americans and Vietnamese. The idea that we can address a pressing problem, and scale knowledge about it, is crucial to U-M on these questions." 
Professor Hardin studied the room as Steve described the thinking behind Teach Outs. It was clear that the people present brought immense expertise, and Professor Hardin was making a calculated gamble that this motley group could integrate the "deep dive" of an MSC case study with the broad survey-style introduction to an issue offered in a Teach Out. But she also saw an opportunity to use aspects of both to enrich public engagement on environment and sustainability issues, across communities in different sites but with similar problems. The idea that cases might be able to address communities' concerns was crucial to her. Could they could increase cohesion, clear communication, and constructive problem-solving for communities, well beyond the confines of a school or campus? It was an experiment worth running, and "Dioxane Plume Pollution," with its linked Teach Out, would be the first test. 
Three months later, on a steaming hot summer day in early June, production for the Teach Out was underway. "We are learning as we go," said Benjamin Morse, a design and production specialist for Teach Outs at Academic Innovation. He leaned forward to address the experts seated under the lights in the dark, cool studio in downtown Ann Arbor as they prepared to shoot a "roundtable" segment for the Teach Out. "One lesson is that the Teach Outs that work the best are those where the experts speak in simple terms that a layperson can grasp easily." He paused, looking expectantly at the two guests and the moderator, all with their full glasses of water and camera-ready, nervous faces. Benjamin knew enough about all three to intuit that complex language and grandiloquence might be an issue from any of them.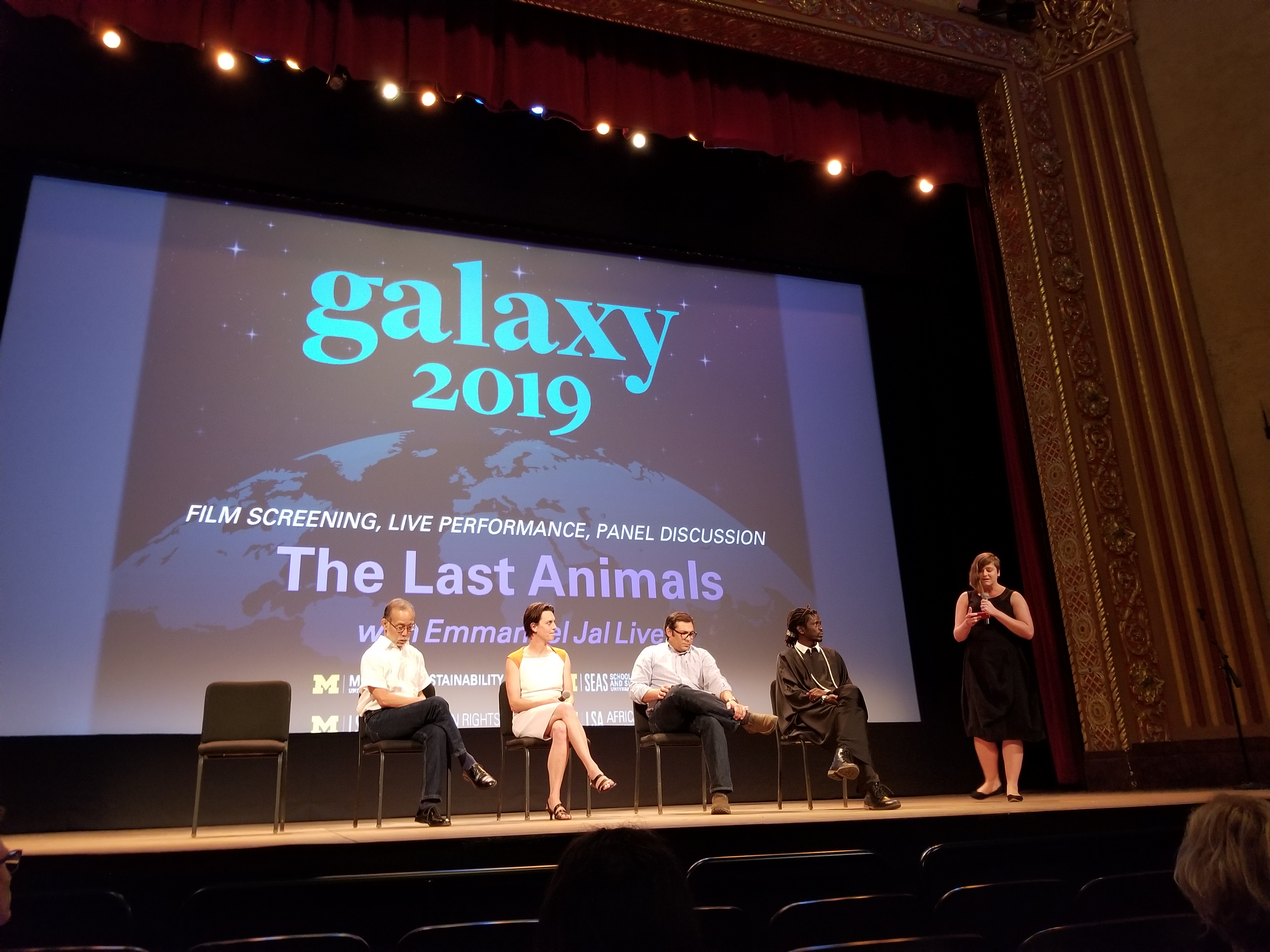 As the convener of the Teach Out, Professor Hardin would act as moderator. One guest, Roger Rayle, was a local citizen scientist who knew more about the history and progression of the 1,4-dioxane plume than most. He had amassed more data, and designed more visualizations of those data, than he could ever present to any audience. The second guest was Amanda Giang, an assistant professor at the University of British Columbia (UBC), who specialized in policy complexities and community empowerment around toxins, and their management or mitigation in environmental systems. She had traveled to join the MSC team and the City of Ann Arbor at Galaxy to pioneer a series of case-based experiments in community engagement on water quality issues, including a public charrette, or design session, on better information tools about the 1,4-dioxane plume. While the Teach Out was designed to convene local experts for global reach using a digital space, the charrette would convene those same experts along with local community members in a face-to-face setting later that afternoon.
With so much very public and contested work happening, and so many impassioned participants, Benjamin had good reason to worry about the tone of the interview to come. As it progressed, he occasionally let the cameras roll while gently interrupting the speakers and asking them to restate a point in simpler, clearer terms. The result was a convergence of the three minds on several key takeaway points, which Roger illustrated succinctly in the last few minutes of the filmed conversation: "To your question about advice for other communities facing comparable challenges, I would say … we need to learn to be as persistent as the chemicals we are concerned about in our water." A moment of silence ensued, as those in the room considered that in the case of 1,4-dioxane, that meant pursuing strategic work for more than 300 years. The Teach Out was surely a first step in bringing the local community together to tackle the problem, but what other meaningful public engagement events could be tethered to case studies for sustainability problem-solving?
---
Resolution: Later that day, the experts interviewed for the Teach Out gathered at the Rackham Graduate School Building to participate in Galaxy, the sustainability learning exchange that MSC was hosting for the first time. The exchange was organized as a series of events, the penultimate of which was a charrette centered around the "Dioxane Plume Pollution" case study. Including a charrette had been Professor Hardin's idea. She was familiar with the technique for drafting solutions to design problems and thought it could be applied here to galvanize public engagement on a persistent local environmental issue. The charrette (Figure 3) took a design-driven approach: What types of information should be on a web app that communities could use to educate themselves about 1,4-dioxane in their groundwater? How might such an app be structured or designed to appeal to the widest array of residents or stakeholders? The charrette participants--Galaxy attendees from multiple cities and countries as well as local citizens--began by listening to a few minutes of the "Dioxane Plume Pollution" podcast. Then experts gave presentations on their perspectives. These included Roger Rayle himself on behalf of residents, the current owner of the corporate location where the contamination occurred, public health and ecological experts, and facilitators from partner universities including UBC and Harvard, along with a strategy and design expert from U-M's Academic Innovation unit. 
Afterward, participants divided into small groups led by the experts and were charged with determining the five pieces of information their stakeholders considered most important to communicate to citizens. The groups then scrambled and repeated the exercise, culling information gleaned from multiple stakeholder groups. As the winnowing process drew to a close, the mixed stakeholder groups began to consider how to present the information in an appealing and effective way: a flyer, a blog, a Wiki, an online FAQ? Enthusiasm for the design phase of the charrette was apparent, as the groups drew, redrew, and negotiated prototypes in front of their respective whiteboards until time was called. Although the final proposals were all quite different, some common priorities emerged. That convergence on an urgent task list meant to Professor Hardin that the charrette had been a useful exercise in combining researchers, administrators from state agencies, civic authorities, citizens, and activists. Moreover, it had resulted in concrete designs that a team at U-M could take to the DEQ. 
Figure 3. The charrette at Galaxy. A charrette is a collaborative meeting in which stakeholders design solutions to a problem. The word is French for "cart", a vehicle once used to collect students' architectural designs at the Ecole des Beaux-Arts in Paris.
That evening, as Galaxy concluded, attendees gathered on the Rackham Building's rooftop terrace. A refreshing breeze blew through the crowd as they absorbed the sounds and sights of the Ann Arbor Summer Festival below. Professor Hardin took a deep breath and smiled; Galaxy had been a success, and she had seen a wide array of local community representatives rally for work together on the dioxane problem. The Teach Out about the case was on track to launch in the following academic year, debuting to a global community of sustainability learners and practitioners. With this work behind them, she felt more certain that MSC could meaningfully address sustainability problems where people work and live, and connect those processes with classrooms so that students acquire both science and information about its limits, possibilities, and practical uses for improving lives.