Resource Description:
Burgunda Sweet, Clinical Professor of Pharmacy College of Pharmacy and the 
Team-Based Clinical Decision Making 
team worked together to create modules for student training in each of the 5 participatiing University of Michigan schools. 
Original Publication Year:
2015
Resource Title:
TIP Winner: Teaching Teamwork and Interprofessional Practice in Healthcare
Academic Area:
Health Sciences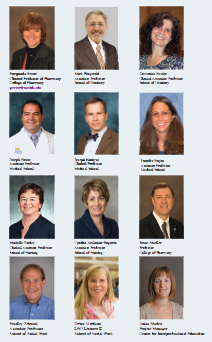 Interprofessional education (IPE) is increasingly viewed by both international health organizations and higher education accreditation bodies as a prerequisite to achieving the "Triple Aim" of improving the patient experience of care, increasing the overall health of communities, and reducing the per capita costs of health care. In response, leaders of five health science schools at U-M agreed in 2014 to jointly prepare their students for such a future by developing a new course, Team-Based Clinical Decision Making. Launched in winter 2015, this course serves more than 250 students from dentistry, medicine, nursing, pharmacy, and social work. It focuses on two core IPE competencies: understanding the roles of the various health professions and acquiring effective teamwork skills.
This video, produced by University of Michigan News Service, highlights the Team-Based Clinical Decision Making course featured in this 2015 TIP award winning innovation.
Student Comments
"The enthusiasm of the faculty for this course is contagious; it inspires students to critically consider the clinical problems that are presented to them and to learn from
each other."
"I have gained a greater comprehension of how each unique healthcare discipline assesses and approaches patient needs. Further, I am learning how the coordination of care among these disciplines may enhance the efficacy and efficiency of care delivery."
"The conversation among group members often reflects interest in how other professionals are educated and how they practice. Members frequently ask for the professional opinions of each other, across disciplines."
"Interprofessional education will help to create collaborative environments enabling professionals to solve complex healthcare problems that exceed the capacity of any
one profession."
"One of my favorite aspects of the course is that class meetings occur in the facility of the module being taught. There is something very satisfying about crossing the perceived barrier and unveiling the mysteries about where one's teammates spend most of their waking hours. Spending a class session in the shoes of our colleagues makes the interprofessional nature of the course that much more personal."
Above photo:
Burgunda Sweet (College of Pharmacy)
Mark Fitzgerald (School of Dentistry)
Domenica Sweier (School of Dentistry)
Joseph House (Medical School)
Joseph Hornyak (Medical School)
Jennifer Stojan (Medical School)
Michelle Pardee (School of Nursing)
Cynthia Arslanian-Engoren (School of Nursing)
Bruce Mueller (College of Pharmacy)
Bradley Zebrack (School of Social Work)
Debra Mattison (School of Social Work)
Anica Madeo (Center for Interprofessional Education)